What Went Well?

Direct mail-solicitation is still effective
It is much easier to obtain donated products/services than it is to obtain monetary donations
What Didn't Go Well?

Crowdsourcing requires more team engagement to be effective
Few monetary donations
Better Alumni participation
What Would You Do Differently?

Allocate money in the budget for a professional fundraiser
Keep thorough/accurate account of in-kind gifts
Contact more alumni and people from Maryland
Website and Communications Insight?
Our website was being developed by students specializing in web design, coding, and online resources. However, the students dropped out two weeks before the competition, and didn't inform us that they were not continuing with submitted changes. Next time, we would set up regular meetings with our web team, to work collaboratively with design and programming, and ensure an on-the-ground website team to provide live competition updates.
Video Blogs would have allowed for personal touches to our program, and in the future engaging students with videography experience may have helped us.
Having various team members access instagram/facebook/twitter and giving their insight of the days activities during the competition.
Our social media team lead did a great job in posting daily photos of our house during the competition and keeping people up to date with our progress.
We developed a team at UMD that helped us monitor the competition, and provided insight on materials. In the future, we would engage them from the very beginning of the project, allowing us to have more regular engagement with media and the university.
A more interactive base with followers, through "Live" and "Story" functions on social media outlets. Some of our competitors utilized polls and live videos on their Instagram pages
The team created the social media platform to reach out to people that did not know about sustainable living or people who were not convinced that a sustainable lifestyle was for them. However, as we were posting sustainable tips and lifestyle benefits, we realized that those posts were not getting a lot of attention. This is because the vast majority of people that were following us or interacting with the content we posted were people that were already aware of sustainable technologies and lifestyles.
As the assembly and competition weeks came around, traffic on our social media platforms picked up in speed. By the week of the competition, we learned how to keep our posts informational but also lively to showcase the team's personality and appeal to people, hoping to convince them to vote for us for the People's Choice Awards.
One aspect of social media that the team wishes they had done was a video production. Whether it be some professional video production, or a live update on either Facebook or Instagram, post-competition, the team wished there was some sort of interactive live feed where people could ask questions about the competition or the house.
Future Plans?
At the end of each U.S. Department of Energy Solar Decathlon, team houses are sold and their location is tracked at: http://www.solardecathlon.gov/past-wherenow.html. Team Maryland houses have a tradition of becoming education outreach centers. For instance, as part of its educational mission to raise public awareness on the practical value of architecture, the Potomac Valley Architecture Foundation (PVAF), purchased the Leading Everyone to an Abundant Future House (LEAFHouse) following the 2007 competition. WaterShed (2011) was purchased by Pepco, a major Team Maryland sponsor during competition, as part of their commitment to educate our customers about energy-efficient and environmentally-friendly practices, and opened as the Pepco WaterShed Sustainability Center.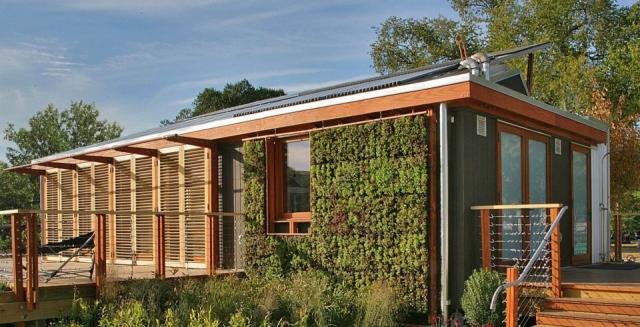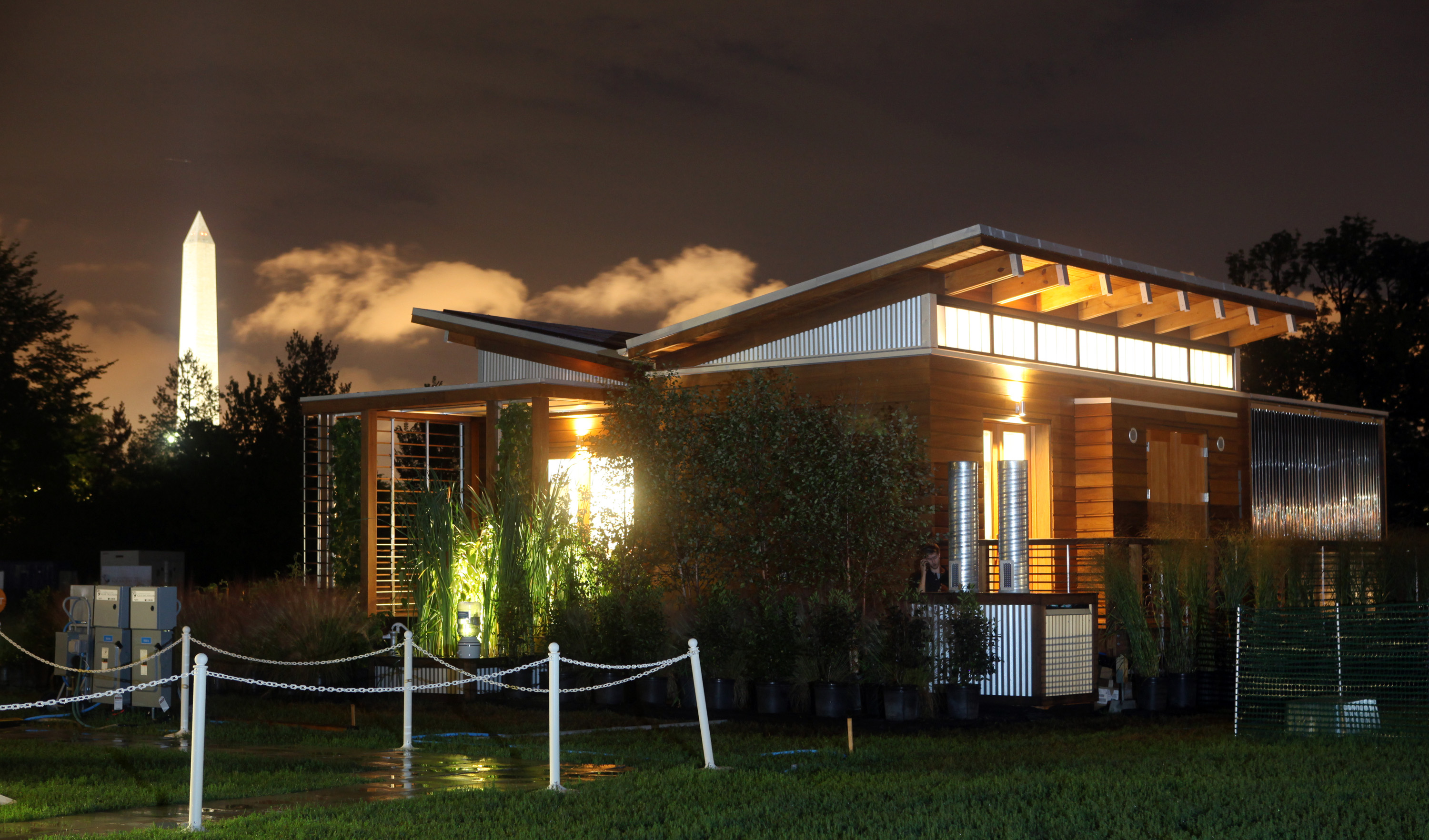 The success of LEAFHouse and WaterShed (2011) is just one manifestation of the University of Maryland's broad involvement with sustainability. However, even with the University's recognized national leadership in sustainability through academics, research, and campus operations, there currently is no physical site that brings all of these University pursuits together. If a visitor comes to campus, where would they go to see the University's commitment to sustainability? If researchers want to field-test their projects or have a conference between disciplines to share and discuss ideas, is there a location that would immediately come to mind?
Solar Park
LEAFHouse is now located on a 3.7-acre site at the north entrance to the campus (Paint Branch Parkway and Route 193) and is used by students and faculty for ongoing research. The multi-acre site presents a tremendous opportunity for the University to become the first institution in the nation, or even in the world, to establish a research, meeting, and demonstration center specifically dedicated to promote interdisciplinary collaboration, development, testing and showcasing of innovative technologies for sustainable practices. Through a Memorandum of Understanding with the University of Maryland, academics, students, individuals, businesses, government agencies, and communities would have a nexus from which to communicate and learn from each other. As part of a long-term vision for bringing the University to the attention of the world as a leader in sustainability, the University plans to make reACT part of campus in proximity to LEAFHouse, and allow them to become anchors for the development of a leading-edge research park.
This sustainability park for academic research and collaboration has the facility to provide:
A Visitor Center for prospective students and tour groups that showcases the face of sustainability at the University of Maryland. It could serve as a learning tool to teach about sustainability, as well as a demonstration site for designers, contractors, policy makers, and researchers.
A Solar Village anchored by Solar Decathlon buildings that would continue to be monitored and studied, providing long-term performance data for the University community, and ample opportunity for undergraduate, graduate, and doctoral level projects, as well as provide a versatile and vital space for investigations via grants. For instance, reACT is being proposed as the locus for a behavioral research lab in a $1.5M NSF STEM Curricular Design Research Grant, "Fostering STEM Identities and Dispositions among Native American Children and Families through the Convergence of Indigenous Knowledge Systems and Sustainable Technologies."
Facilitate reACT's commercialization and technology transfer to markets - this park has the potential to be a partnership platform between research and market ready, environmentally sensitive, and cost effective commercially available products. Companies could use the site to test and showcase leadingedge technologies, and as funding sites for major collaborative initiatives.
Myriad campus clubs and organizations to have a place to meet and practice their interests, such as urban gardening. GreenFest could be held here, as well as other special-interest fairs and fests, a potential source of revenue. On Maryland Day, this site could accommodate thousands of visitors. This site would give a place for concerts, lectures, even just a place to "get away" and hang out, while still being on-campus.
This site would serve a very broad community. Team Maryland expects this to be the right catalyst to energize this currently unused lowland area in a sensitive, forward looking and dynamic way, especially by providing a visibly exciting and distinct focal point for what is one of the University's main entrances. Currently, there is a glaring planning deficit in that not even one sign exists to designate this as an edge and gateway to the University of Maryland. It also does nothing to bring attention to this as the entrance to the Xfinity center, one of the University's biggest revenue generators. Surely a missed opportunity, over 30,000 commuters pass through or go by this portal daily, with many thousands more entering here for athletic events. Currently, there is no celebration of this special spot. By sensitively and powerfully developing this entrance and site, the University would have a vibrant focal point that would clearly and dynamically demonstrate to the world that the University of Maryland is dedicated to solving our most important contemporary issue; "what is sustainability and how are we going to achieve it?"
Team Maryland is currently working with the University's Associate Vice President for Economic Development and Director of UM Ventures on technology transfer and commercialization for the following reACT innovations.
The VRF system reallocates waste heat from the interior and from the Greencourt to improve the efficiency of the heating system and to heat water.
Greywater Treatment System recycles wastewater for irrigation an, our research goal is to achieve drinking quality water.
Hydroponic system: Closed-loop Vertical Hydroponic Garden.
Architectural Variations: reACT's essential "DNA:" the Court DNA, the Cluster DNA and the Compact DNA.
Modular Furniture: Kitchen Island, Dining Table and Desks, made of identical, smaller components that can be assembled in diverse ways can host a gathering of up to 16. The kitchen/dining and desk furnishings are not only movable on lockable casters, but are adjustable in height from 28"to 48" above the floor and able to lock together.
Open Source reACT SmartHouse control system, which uses weather forecasts and simulations of the house to optimize performance and resource utilization, such as power and water. The UMD Gemstone team will also be making adjustments to the existing filtration system as well as sending filtered greywater to an EPA certified water quality testing lab to generate results on the quality of the filtered water from the system.
Solar Driers: A VersaLift storage elevator has been adapted to transport food or clothes to the attic, where solar heat can dry clothes, fruit and vegetables (for preservation) and eventually perform as a heat retention cooker.
Factory Construction: Kit of Parts, the discrete modular components, with all systems, wiring, plumbing and ducting included, and shipped to the building site for integration with the rest of the house. They are sized for easy transportation by truck or train. Each module, in turn, is comprised of components that can be mass produced in factories, efficiently transported to the building site and assembled by local labor. Materials may therefore be selected based on locally/regionally available materials to enhance sustainability and affordability, and to promote local industry. Many components can be flat-packed and transported via flatbed truck or train. Final assembly of the components can be accomplished using local labor, with homes enclosed in as little as a week, with relatively little specialized training.