October 7, 2017
Patricia Kosco Cossard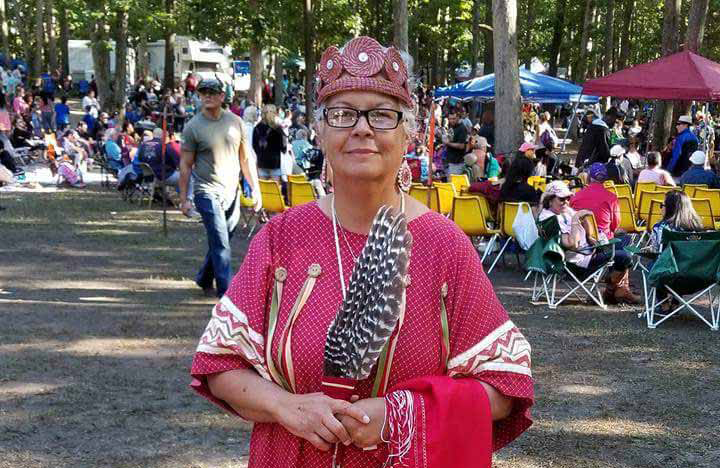 September 17, 2017
Pictured:
Chief Natosha Carmine
Credits: Patricia Kosco Cossard
Native Americans Highlighted for Their Stewardship of Mother Earth at the Solar Decathlon
Monday Team Maryland celebrates Indigenous Peoples Recognition Day at the Solar Decathlon! We are looking forward to members of the Nanticoke Indian Tribe and the Administrative Director for the Maryland Commission on Indian Affairs joining us in Denver next week. Team Maryland has taken its inspiration from the first Americans in our region in developing the reACT house.
The Nanticoke Indian Tribe held its 40th Annual Nanticoke Powwow this past September. Chief Natosha Carmine explains, "We have our Powwows to remember and honor our ancestors and our elders." It is an opportunity "to keep our heritage, culture, and traditions alive," she said. All generations are honored in the tribe the Powwow has an important role in teaching "our children our ways that have been passed down from generation to generation." It is a time for the tribal community to renew and refresh their spirit. Chief Carmine points out that "as our Powwow is open to the non-native community we encourage them enjoy the Powwow with us and to ask us questions so that they will understand why we do what we do and how we respect who we are."
The territory Nanticoke Indians traditionally live on the Eastern Shore, a 170 mile long land-mass between the Chesapeake Bay and the Atlantic Ocean, which now is shared by the states of Delaware, Maryland, and Virginia, forming the Delmarva Peninsula. Nanticoke is both a language and a name meaning the "tidewater people." Some studies show that indigenous people have inhabited the Delmarva since the last Ice Age. First contact with Europeans was in 1524 by Giovanni Da Verrazzano. During his first voyage to North America he sailed into Chesapeake Bay. According to Nanticoke Tribal Councilman, Kyle Harmon's research, he visited the Delamarva and encountered Nanticoke paramount chiefdom. John Smith was the first Englishman to encounter the Nanticoke in 1608. When the American colonies took shape, the Nanticoke made a number of treaties with what is now Delaware and Maryland. Today, the Nanticoke are recognized by the State of Delaware.
"Folk from all backgrounds are invited from the local community and surrounding counties and neighboring states" said Chief Carmine. "We have represented ourselves well in our county and our state. Because our Powwow is unique to our culture many people come because they enjoy our drummers, dancers, they come to support and learn about the native ways. Our guests also enjoy the 40+ venders, as well as the native foods such as Succotash and Indian Tacos to name a few."
Kyle Harmon has been working with Team Maryland as our client mentor. "I really value the open minded approach Team Maryland has had collaborating with the Nanticoke leaders to really highlight some of our values and cultural traditions," Councilman Harmon replied when recently asked about his experience with Team Maryland. "Throughout the whole process the leaders of Team Maryland have made sure to include our community in all aspects of the project. With this relationship and mutual respect both communities will be able to thrive moving forward learning from one another and creating opportunities that were once not present."
Harmon was asked about what features of reACT stand out to him, "it is amazing to see western scientific thinking intertwined with Indigenous knowledge systems to create a structure that represents both thought processes. For natives to be able to be self sustaining helps revive some of our traditional ways and incorporate modern advances to provide the best atmosphere for growth. From the crops grown, to the herbs and spices used as medicines in the hydroponics system this will allow natives to live away from their traditional lands and still be able to utilize the knowledge passed down from generation to generation. To be able to utilize every drop of water collected and not waste this sacred resource is a huge plus for our people. The house allows its inhabitants to learn about the intricate details that make it so special. Awareness to our footprints we leave on this Earth helps us ensure that we leave this place better off for our children and the next generation of people to inhabit Turtle Island." He continued, "this house is a huge step in the right direction for not just native people, but for all people to live a moderate lifestyle within our means. Doing our part to ensure that this Earth is still flourishing for the next seven generations."
Chief Carmine and Director Keith Colston will be joining us on October 10 and 11 as our VIP guests to reACT's dinner parties, part of the Home Life Competition. A mission of Team Maryland is to raise awareness of Native American ecological concerns to the greater public. Team Maryland will be hosting a conversation with our collegiate neighbors about Native American ecological advocacy as it pertains to living systems, food and cultural sovereignty. Our menu includes elements of a traditionally based Nanticoke menu: Chief Carmine's Succotash, traditional Corn Pudding, Baked Whiting, Three Sisters Soup, Yellow and Green Summer Squash Medley, and Pumpkin Pie.
---